Karoun Original Braided Cheese with Black Caraway Seed

The KAROUN original braided string cheese with black caraway seed, called also Fine Tresses or Angel Hair, is the authentic all natural real Armenian string cheese handcrafted according to genuine Mediterranean traditions. Karoun Mediterranean specialty cheeses are made using traditional cheese making technology transmitted throughout generations. Ara Baghdassarian, owner and CEO of Karoun Dairies is the true successor of his father Ohannes Baghdassarian, founder of KAROUN Dairy in Beirut, Lebanon in 1931.

Karoun all natural Mediterranean cheeses are now produced in Canada from first quality Canadian cow milk under the constant supervision of KAROUN DAIRIES SAL according to its strict quality standards and distributed by KAROUN DAIRIES INC. an all Canadian Middle East cheeses dairy products company.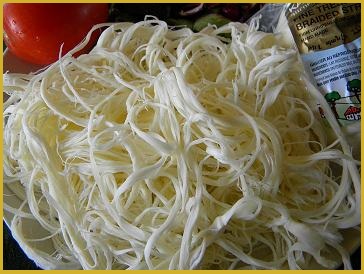 Karoun Original Mediterranean Specialty Cheeses: Braided String Cheese, Handcrafted Fine String Cheese

Karoun 0riginal braided string cheese with black caraway seed, handcrafted fine string cheese, comes in the form of a knotted endless loop of fine string braids due to the way it is hand pulled.

As most specialty artisan Mediterranean cheeses, KAROUN DAIRIES brand Karoun original hand braided string cheese is very salted to preserve it up to one year.

You can enhance the delicate flavor of Karoun original braided string cheese by soaking it in cold water after cutting the cheese and disentangling the strings.

KAROUN original braided string cheese can be exported to most countries worldwide under KAROUN brands.

KAROUN original braided string cheese is not available for sale or to be re-exported to the USA under our proprietary international Karoun brand.
US customers should contact our sister company KARLACTI, Inc. to get Karoun original braided string cheese and various other Mediterranean specialty cheeses.

Karlacti, Inc. also supplies less dry and much less salty varieties of braided string cheeses:

Original braided string cheese

with black caraway seed.

Plain natural flavor braided

string cheese.

Braided string cheese with natural hickory smoke.

Braided string cheese marinated with olive oil, herbs:

Braided string cheese with

hot pepper


Braided string cheese with garlic




The supply of Karoun original braided string cheese is limited due to its artisan production.

Ingredients:

Pasteurized Milk, Bacterial Culture, Salt, Spices,Microbial Enzyme.


Shelf Life: 12 months refrigerated 2 0-7 0 C.
Can be frozen and refrozen.

NUTRITION FACTS
Serving size 30g
Amount per serving
Calories 78 Calories from fat 54

Average Analysis per serving

%Daily

Value*

TotalFat

6

g
15
%

Saturatedfat

4
g
9
%

Cholesterol

15
mg
5
%

Sodium

850
mg
28
%

Total Carbohydrates

0
g
0
%

Dietary fiber

0

g

0

%

Sugars

0
g



Protein

6
g
Vitamin A**6% Vitamin C**0%
Calcium** 15% Iron** 2%
*Percent Daily Values are based on a 2.000 calorie diet.
** Reported as a percent of the recommended Daily Intake (RDI)
Copyright © KAROUN DAIRIES INC. 2OO8-2015 All Rights Reserved
4AB Consulting