Authentic Mediterranean Specialty Cheeses
Authentic Mediterranean All Natural KAROUN Dairy Products
Karoun Cheeses Variety Specialty Line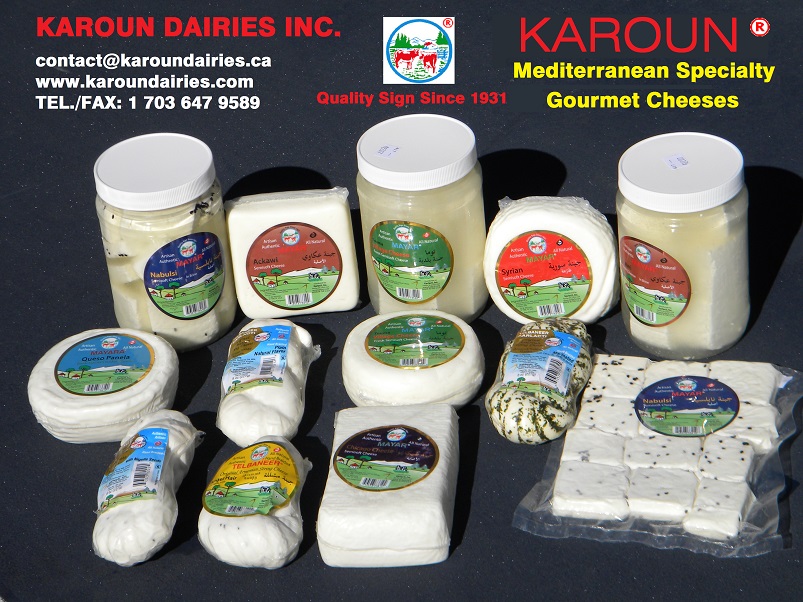 KAROUN DAIRIES INC.*
Karoun Brands True Mediterranean Origins

Middle East Cheese Dairy Products Company
Healthy Mediterranean Cheese Origins
Authentic KAROUN Products
Delicious Healthy All Natural Food




KAROUN dairy, Karoun Dairies, has an international history from Mediterranean origins.

From humble beginnings in 1931 in Beirut, Lebanon, it is now a famous brand worldwide.

Ara Baghdassarian continues the path drawn by his father, Ohannes Baghdassarian. He preserves the historical Armenian and Middle Eastern heritage of the Baghdassarian family cheese specialty by producing authentic, artisan, all natural Armenian Cheeses, specialty cheeses, Mediterranean specialty cheeses, all natural Middle Eastern cheeses, Mediterranean specialty dairy products and natural Middle Eastern cheese and dairy food products.


KAROUN handmade all natural traditional Armenian Middle Eastern specialty cheeses and Mediterranean specialty dairy products do not contain any additive. KAROUN DAIRIES INC Mediterranean dairy products are produced according to genuine traditions and rigorous KAROUN DAIRIES quality standards for your health.

KAROUN DAIRIES INC pursues the KAROUN DAIRIES International Group's objective of making available to every individual fresh all natural dairy products of premium quality through innovation, commitment, excellence and excitement.
*Not related to Karoun Dairies, Inc. of California, USA incorporated under the KAROUN DAIRIES business name and using the KAROUN trademark without the consent of our international group.
Copyright © KAROUN DAIRIES INC. 2OO8-2017 All Rights Reserved
4AB Consulting